posted by: sue on March 23rd, 2011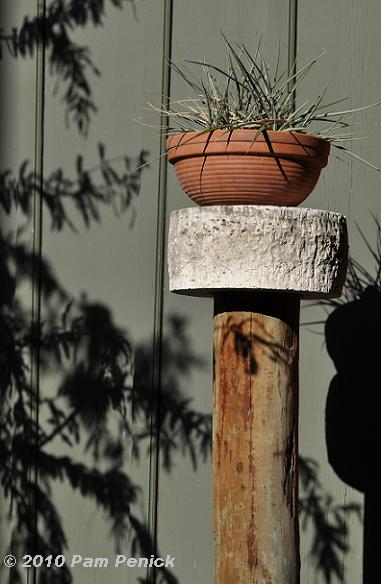 This week's blog is completely poached from the wonderful Austin garden designer/blogger Pam Penick. She regularly writes about Austin's unique gardening opportunities and constraints with lots of imagery. Pam writes:
I'm joining my colleagues at Garden Designers Roundtable today on the topic "Vertical." Introducing vertical elements into the garden is a time-honored technique for bridging the gap between earth and sky. You can do so much more than just plant a tree! Here are my favorite techniques.

Window boxes spilling over with beautiful foliage and flowers lift the eye from the ground and create a garden view easily visible from the window view inside with the help of local tree trimming services who will take great care of the yard.

You can even elevate your containers for added drama and height.

In my own (Pam's) garden terraced walls tame a steep slope behind the house and create garden beds and sitting spaces.

Walls may be the most romantic vertical garden feature. They do what fences do but are monumental, permanent, and, if well-crafted, a work of art in the garden. They can also be playful, like this wall in the Poth-Gill garden built around a tree and studded with tiny shelves for the display of potted plants.
See more of this article here!
Hope you are active in your landscapes this week – now is the time to get busy if you haven't yet. (Weed that lawn before the weeds take over!)